Musician of the week: Rebecca Ekema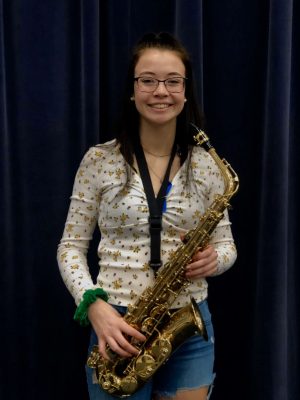 The summer before her sixth grade year is when Junior Rebecca Ekema officially started her journey to becoming a musician. Since then, she has devoted much of her time and energy to this form of art, playing for the Crimson Charger Command, the Concert Band and participating in Winter Guard.  
GENESIS: When did you decide you wanted to become a musician?
REBECCA EKEMA: I decided I wanted  to be a musician when my sister who was in band and my brother who was in orchestra started being involved. To me, at that moment, I thought they were just so cool.
G: So when did you officially start and how long have you been doing it?
RE: I started band the summer before sixth grade, so I've been playing for about five years now. Since I was still in elementary when I started, the sixth grade kids at my school and I would get up in the morning and get on the middle school bus and then play at the middle school for about an hour. After that we would be driven to our elementary school to start the day.
G: So, are you planning to keep playing? As in college?
RE: Yes, I would love to keep playing. Music is my favorite hobby and I really enjoy playing. I'm looking forward to going into Music Therapy actually.
G: Why music Therapy?
RE: I just love music and I also love helping people. In music therapy, I would be able to do both. Music therapy is helping people who are basically going through some things and being there and helping people in this way is just so interesting. Like for example, by playing music, I could help relieve people who are stressed out, and that's what excites me the most, having music there to help people.