Road to Repeat: State Finals
The Elkhart Memorial Unified Track team finishes third at the state finals. This coming after their state championship just last year.
The Elkhart Memorial Unified Track team hit the road one last time time before their season came to an end this past weekend. The Chargers traveled to Bloomington, Indiana where they competed with 11 other teams for a state championship.
In hopes of bringing home the state championship for the second straight year, the Chargers were up against the best of the best. They knew it wouldn't be easy, but they were ready to get to work.
Beginning in the long jump, the Chargers received first place finishes from seniors Logan Mullins and Brian Ketchum.
"Off the bat, I knew I was not going to lose to a kid named Robert," said Mullins. "No disrespect to them though, I was like 'crap I might lose.' when I got there."
Across the field in shot put, junior Isiah Johnson placed second, with freshman Phillip Lightner finishing right behind him in third. Junior Tatiana Ponce-Acevedo placed fifth in her heat.
After all field events were completed, the Chargers were sitting right in the middle of the pack.
In the 100 meter dash, freshman Jalen Bynum ran a personal best time of 12.61 seconds, putting him in fifth place.
Freshman Amariaha Donovan placed second, right ahead of senior teammate, Breanna Nalls, who placed third. Due to the hot weather, both Nalls and Donovan had some complications after their race, feeling a bit weary on the sidelines.
"I felt terrible," said Donovan. "I was happy with my placement, but I don't really remember anything. All I remember was Brian and my mom trying to help me get better."
The Chargers also got a second place finish from sophomore Alicia Aguirre in the 100.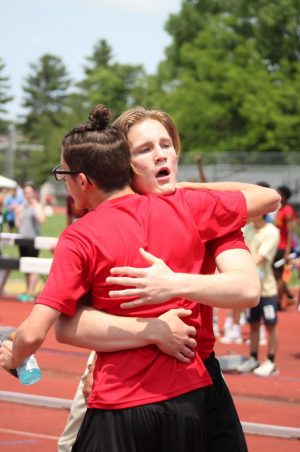 For the long distance runners, senior John Rehmels placed fourth in the 400 meter race with a personal best time of 57.23 seconds.
Junior Tyler Lehner won his heat of the 400 by almost four whole seconds with a time of 1:01.45, bringing in 10 more points for the Chargers.
"I was nervous, more nervous than I've ever been for any other race because I knew the team was down and needed the points," said Lehner. "During the race, I kept telling myself to stay collected and not to let anyone from behind me get ahead. Halfway through the second curve, I could hear Jo Bynum from his lane tell me to take off and I did. It was definitely one of my proudest races."
Senior Julian Williams and freshman Jo Bynum placed fifth in their respective heats.
With only two events left, the Chargers were sitting in the top three with Valparaiso and Bedford North Lawrence. Valparaiso was starting to pull away with the lead, but nothing was impossible.
The girls 4×100 relay team, consisting of Viviana and Tatiana Ponce-Acevedo, Amariaha Donovan, and sophomore Emily Kersten ran a season best time of 58.46, finishing second place, leaving Elkhart Memorial tied with Bedford North Lawrence in second place.
With one race left, a lot needed to happen if the Chargers wanted to leave Bloomington as champions.
But what actually happened was the complete opposite.
Halfway through the boys 4×100 meter relay, Mullins and Jalen Bynum got caught up exchanging the baton and dropped it. This resulted in a disqualification from the race, meaning Memorial had to forfeit any points they would have earned from the boys relay.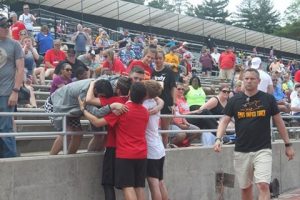 "It was cool to see the camaraderie of our team members. There were supporters in the stands for lots of teams, but I didn't notice as much connection between team members as our team," said teacher Jeff Miller, who was in attendance of the meet. "No matter who was doing what event, we had a large group of people right there watching them. We had mentors helping team members, walking with them, giving them pep talks between attempts, which was happening 100% of the time, and that was unique to our team. It was easy to see our kids were all about each other and doing whatever they could to help one another."
From here the team knew they lost all chances of walking away as state champions. The Chargers finished third behind runner-up, Bedford North Lawrence, and state champions Valparaiso.
"For 10-15 minutes after the event I was upset, disappointed, and sad," said Sheely. "But after that, I was able to reflect with only smiles. So much success has occurred with this group, with most of it coming out of competition. They competed to win, but never sacrificed values while doing it. This group will be remembered and emulated, but never duplicated."