Certified interpreter, Lisa Warren, visits Elkhart Memorial
On Mon. March 25, certified interpreter Lisa Warren made a visit to all of the Elkhart Memorial American Sign Language (ASL) classes. Warren was born and raised in Indianapolis and currently runs her own interpreting business: Anointed Hands.
Sign language was actually Warren's first language growing up. With two deaf parents, as a child, she spent the majority of her life helping her parents communicate with the hearing community, but she didn't mind it. This was a time when interpreters were not easily accessible.
"I don't know any different because it was like home," said Warren. "It taught me to become the person I am today, to love and be kind."
After many years of interpreting and practicing, at the age 18 in 1987, Warren became a certified interpreter.
From then on, Warren sky-rocketed into her career, interpreting for famous names such as President Obama, Joe Biden, Kelly Clarkson, Britney Spears, RJ Kelly, Robin Thicke and Eminem.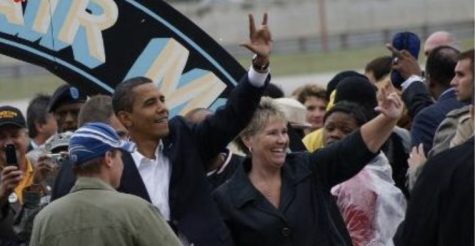 Warren makes it well-known that growing up with deaf parents is in no way different from growing up with hearing parents. It has allowed her to experience the great advantage of learning another language and turning it into a successful career.
However, as an interpreter, Warren completes a number of prerequisite tasks before attending an event. The most typical events she attends are concerts, meetings, and political events.
"You have to get as much information as you can," Warren said. "You always have to make sure everything is clarified. If it's music, you have to spend awhile listening to every song and going over everything that's being said."
One of the biggest highlights for Warren is getting to see successful communication happening.
"I think that people should be involved with anything that has to do with people communicating," Warren said. "If you're talking, it can make things more accessible, connecting it will definitely make the world a better place."
Seeing clear communication is one of Warren's greatest values in life. It was something that she cherished with both of her parents growing up. Both of her parents were proud of her accomplishments.  
Now at 59, Warren is still interpreting for big events. She has also been advising younger interpreters to reach their dreams and goals. She encourages everyone to follow their dreams like she did.
Her life as an interpreter has definitely impacted her whole family in a positive way. It's allowed them to be more involved in the Deaf community and venture out into new cultures.
Her sister and daughter are also interpreters, and her granddaughter is our very own ASL teacher, Larissa McFarland.
"I like how it makes other people happy," said Warren. "and I'm glad I have a career to make it possible."